The people here at TexasSteak are fans of a good meal with good friends. We consider ourselves 'Grill Masters' and know the key to a great steak is a perfect cut of meat. We've spent years looking for the best steak recipes and sauces. We have ordered steaks cut from our local butchers and had them same day shipped from around the country. We endorse the steak recommendations on this site and use these same Texas Steaks and Sauces on our grills at home.
Try our Award Winning Texas Steak BBQ Burger Recipe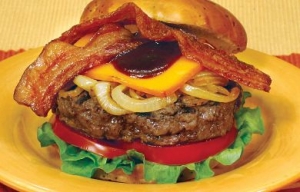 Tried the all new Texas Steak Barbecue Burger?
From the top to bottom this new favorite is taking America by storm. The heart of this classic is 100% pure Angus steak right from the heart of Texas.
Smother on your favorite BBQ sauce and zesty cheese and you're sure to amaze neighbors and friends alike.
Check out our all new Texas BBQ Burger Recipe!
Texas Steaks: The Best Steaks for your Grill!
TexasSteak.com is your one stop shop for the freshest steaks available, delivered to your door. We take the guess work out of a great steak. We are passionate about quality and flavor. Choose from our many recommended sauces and accessories to make your next cookout a success!
Click edit button to change this code.